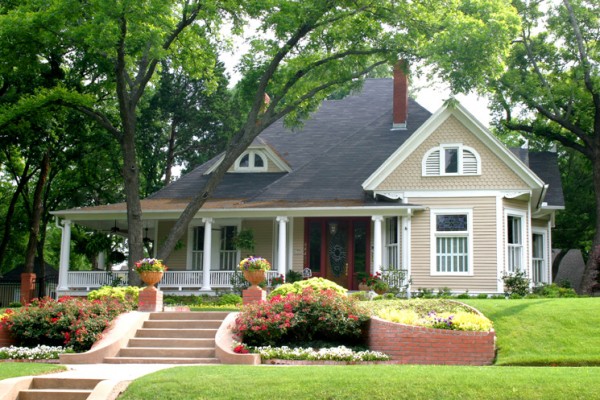 Is Your Home Ready For Spring?
The groundhog has spoken…we're headed for an early spring (we hope)! After the long nights, cold days and harsh winter weather, I'm sure we're all looking forward to the bright sun, breezy days and blooming daffodils. Everything gets a fresh start in the Spring! It's certainly a beautiful time of year.
Unfortunately, there is a "dark side" to Spring. That beautiful sunshine beams down on your home and you suddenly discover all of the issues that have been hiding and festering under the snow. Clogged gutters, water damage from snow and ice, deteriorated roofing materials, gaps around your windows…the list goes on.
So, what is one to do when the harsh reality of Spring time home woes rears its ugly head? We thought you'd never ask. First, you can always call Benchmark to provide you with a free inspection and free estimate on any roofing, siding or home improvement project! Ask about our Spring specials!
If you are working on a budget and just interested in some maintenance, here are some tips that can help determine if you can easily fix a minor issue or require more serious repairs.
Check for loose or leaking gutters and properly installed downspouts. Your gutters protect your home from water that, if not properly diverted, can wreak havoc on your home. Remember, with Spring comes those April showers. Is your home ready?
Check your windows and doors for any exposed wood or gaps. The heavy rains typical in the Spring can damage wood and result in leaks into the interior of your home, leading to paint and drywall damage.
Look up! Walk around your home and examine the roof shingles. Do you notice any loose or missing shingles? The winter weather can cause damage to your roof. If you see any suspicious areas, call Benchmark Roofing to come out for a FREE inspection! We'll provide you with a detailed roofing report and give you options to remedy any potential issues.
Look at the metal flashing around your chimney, if you notice any gaps, buckling or cracks, you may need to seal those areas to avoid or repair any unknown leaks. Often times, an undiscovered leak causes interior damage long before the homeowner notices the discoloration on the ceiling or any water at all. Prevent the possibility of costly exterior and interior damage by inspecting for these types of issues.
Check your outside hose faucets for any damage due to freezing. Turn the water on and place your thumb over the opening. Did you stop the flow of water? Then it's likely you may have a pipe inside your home that is damaged. Checking exterior pipes for any type of damage caused by the freezing temperatures, can save you from interior water damage. If you do experience any water emergencies, remember that Benchmark offers 24/7/365 emergency water mitigation! Call 888-431-5352!
These are some quick tips that can save you thousands of dollars in damage and repairs. Routine maintenance and home inspections can help discover minor issues before they become MAJOR problems!
We are here to help! There's no job too big or small. Benchmark wants to be your go-to resource for all of your home improvement, roofing, siding and gutter needs!
Take care of these issues now and when the warmer weather hits, you'll be able to get outside and enjoy your home with your family!